Commercial property insurance is used by businesses of all sizes to protect against damage to commercial buildings and their contents from covered losses. Many policies also cover loss of income or unexpected increases in business expenses as a result of property damage.
Many different types of accidents and events can lead to significant financial setbacks for businesses. Whether it is a sudden fire or a burst pipe, a single unfortunate incident could potentially force a company to shut its doors for good.
Types of Assets Covered by Commercial Property Insurance
Businesses face a wide range of circumstances that put them in danger of financial ruin. Commercial property insurance is an affordable solution for businesses that want to avoid the consequences of a costly claim. According to Insureon, the median cost of commercial property insurance is $755 per year or just $63 per month with a total limit of $60,000 and an average deductible of $1,000.
Some common assets covered by commercial property insurance include:
1. Furniture
Most commercial property insurance policies cover all types of furniture used for business purposes, such as desks, office chairs, conference tables, waiting room furniture, storage cabinets and filing cabinets. With U.S. businesses spending an average of $105.65 in office furniture per employee, according to Allsteel, having coverage is essential.
2. Equipment
Businesses rely heavily on technology to continue running at an optimal level. When equipment suffers damage or failure, it can lead to costly downtime. Some types of equipment covered by commercial property insurance include peripheral and auxiliary devices, network infrastructure connections, networked printers and copiers, and phone systems and smartphones, among many others.
3. Computers
Desktops, laptops and tablets are commonly used by businesses to perform research, share data and complete daily tasks. Commercial property insurance provides protection for computers, dedicated servers, hard drives and many other forms of technology.
4. Exterior Signs
A company's outdoor signs play a critical role in helping to attract customers who intend on visiting the business. They also put the business's name in the public eye, helping to establish brand recognition. Professionally-crafted exterior signs can come at a substantial cost, meaning commercial property insurance is needed to protect against damages.
5. Landscaping and Fencing
Many commercial property insurance policies cover landscaping and fencing. Businesses spend a significant sum to keep the exterior of their business looking pristine with freshly cut lawns, shrubs and trees. The right policy can help protect these assets.
6. Inventory
Natural disasters, fires and other unexpected events can completely destroy a business's inventory. With commercial property insurance coverage, businesses can replace their inventory following a covered peril and continue normal operations.
7. Important Documents
While many businesses have made the move to digitize all of their important documents, there are still many documents and reports that remain in their vulnerable paper form. Commercial property insurance can cover the expense to replace these important documents.
8. Others' Property
Businesses that store the property of others may find it difficult to repair or replace these items when lost or damaged. A commercial property insurance policy will often cover the property of others.
Replacement Cost vs. Actual Cash Value Coverage
Before a business can determine how much coverage it needs, it must first understand property valuation. Insurance companies typically use replacement cost or actual cash value to determine an asset's worth.
What Is Replacement Cost?
The replacement cost of an asset refers to the cost that is needed to replace the asset if it should be lost or destroyed today. Replacement cost is more commonly used than actual cash value as it helps the policyholder return to a place before the peril occurred. The insurance company provides the policyholder with a specified amount of money to replace the damaged asset at its current worth.
What Is Actual Cash Value?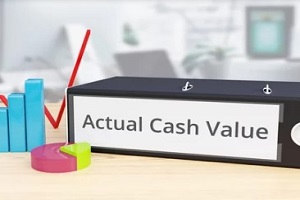 The actual cash value of an asset refers to the property's market value but with depreciation costs considered. An appraiser can determine this value by deducting the depreciation amount from the replacement cost of an asset.
Insurance companies typically charge less for coverage based on actual cash value as claim payments tend to be lower compared to replacement costs. With actual cash value, the policyholder is compensated for the cost of the item if it were sold in today's public market.
Contact Atlas Insurance for an Insurance Quote
There are many aspects that are considered when providing a quote for commercial property insurance, such as the location of the business, construction of the building, occupancy, fire and theft protection and the value of the contents inside.
Working with a reputable insurance agency can help ensure that you receive a fair insurance quote. To learn more about commercial property insurance or to request an insurance quote, reach out to the friendly team of insurance agents at Atlas Insurance Agency.