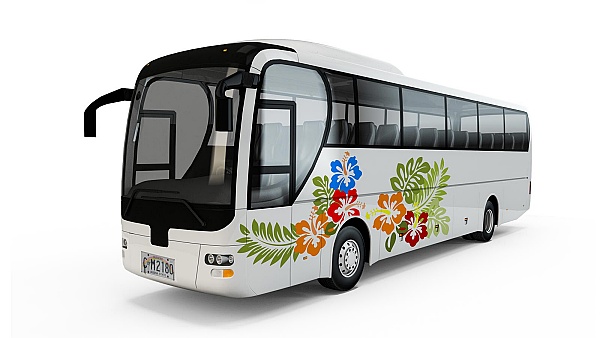 If you run a bus fleet, it pays to strategize on the right protection
Hawaii's bus liability insurance is expensive — so don't insure what you don't have to. Focus on protecting yourself from catastrophic events.
Typical insurance coverages for Tour Buses include but are not limited to:
Business Interruption
Evaluating the business income loss exposure requires an understanding of how business income losses are measured, how a business interruption affects expenses and the property and perils that business income losses can involve.
Commercial Auto
Almost every organization has auto exposures, even those that do not own any automobiles. The most commonly used form for insuring commercial autos, the Business Auto Coverage Form, covers auto liability, physical damage and no-fault exposures.
Commercial General Liability (CGL)
Commercial General Liability (CGL) insurance covers many of the common liability loss exposures faced by an organization, including its premises, operations, and products.
Commercial Property
Whether it is the computers, office furniture, fixtures, equipment, records and office supplies of your small business; the complex machinery of an automated manufacturer; or the office and apartment buildings owned by a large real estate developer, all commercial enterprises use at least some tangible property that is exposed to loss.
Commercial Umbrella
Commercial Umbrella coverage provides liability coverage that supplements the limits of an insured's General Liability, Automobile Liability and Employers Liability policies.
Directors & Officers Liability
Directors & Officers Liability coverage insures corporate directors and officers against claims, usually brought by stockholders, alleging loss due to mismanagement.
Employment-Related Practices Liability
Employment-Related Practices coverage is available for the legal costs to defend claims against sexual harassment, wrongful termination and discrimination, and the actual legal liability for such acts.
Flood
Flooding is a relatively common and costly natural disaster here in Hawaii, particularly in areas near streams, rivers and beaches. Flood water can destroy walls, floors, equipment, supplies, files and much more.
Professional Liability
In today's insurance marketplace, Professional Liability can be more broadly defined as insurance that covers persons engaged in various occupations against liability resulting from their rendering or failing to render professional services.
Temporary Disability Income (TDI)
The Hawaii Temporary Disability Income (TDI) law was enacted in 1969 and requires employers to provide partial wage replacement insurance coverage to their eligible employees for non-work-related sickness or injury (including pregnancy).
Workers Compensation & Employers Liability
Workers Compensation statutes obligate Hawaii employers, regardless of fault, to pay specific medical, disability, rehabilitation, and death benefits for their employees' job-related injuries and diseases.
Commercial Inland Marine
Inland Marine insurance is insurance that covers many different classes of property that typically involve an element of transportation. Commercial Inland Marine coverages come in many forms, such as Builders Risk coverage, Jewelry & Furs coverage, Theatrical Property coverage, and Contractors Equipment coverage. Determining the coverages you need that effectively cover the exposures your business faces can be tricky. Atlas has the expertise to navigate through the many coverage options and will find the specific solutions you need.
Garage Liability
Garage coverage provides liability, garage keepers and automobile physical damage coverages, as selected, for garage operations. Liability coverage includes garage operations in a manner similar to a General Liability policy, and the use of covered autos, in a manner similar to a Commercial Auto policy. Physical damage coverage applies to the named insured's owned automobiles, not customers' cars, and applies to cars held for sale and those used in the business.
Why Tour Bus Insurance Is Important
Running a business that involves the use of a tour bus or vehicle of any kind means that you are transporting people across town or across the state. Due to the fact that you transport members of the public and have their safety in your hands, you need specific insurance coverage that is tailored to fit your company's unique need to be covered in the event of the unthinkable accident. This will ensure that your vehicles and the potential injuries to your passengers are covered. We understand that buses barely fit in the road lanes and are very difficult to operate.
What Determines The Cost Of Business Insurance?
The cost of tour bus business insurance can vary depending on some important factors that include:
The size of your fleet
How many trips you make
Your financial strength and ability to take on risk
Your claim history
How many employees you have
Your safety efforts (we can help with that)
Overall, the cost of tour bus insurance is worth the investment, as all it takes is one accident to cost you the financial well-being of your business.
When choosing an insurance plan for your tour bus company, it is critical to work with a company that understands your unique needs. Our agents are experts in the transportation industry and can work side-by-side with you to create a plan that covers you where you need it most.
Let Atlas help steer you in the right direction
Every tour operator knows this scenario: A large bus that can barely fit into the lanes tries to maneuver within a small dense area surrounded by tourists, driven by employees hired from a state with the lowest unemployment rate in the country. It's not a matter of IF an accident will occur, but WHEN. So why insure those events that are minor and bound to happen?
Atlas customizes bus fleet protection to minimize your costs, encouraging self insurance through higher deductibles or group captives, so you don't overpay your premiums. All the while, we maintain your catastrophic protection.
Most clients don't even realize you can take a Personal Injury Protection (aka No-Fault) deductible and use the premium savings to increase your limit and diffuse lawsuits.
It's no secret that you get better premium levels when more insurers compete on your business. We have more insurer appointments than our competitors, resulting in more satisfied clients. Atlas stands ready to help ensure you get the coverage you need at a price you can live with.
Ready to take your business further?