Commercial property insurance is a type of business insurance that protects the property that your business owns. In the event of disasters such as fire, windstorms, flood, and vandalism, commercial property insurance can be tailored to protect against losses and damages.
This insurance can cover almost any physical assets your business owns, from the building itself to inventory, furniture, equipment, and business records.
What Does Our Commercial Property Insurance Cover?
Coverage depends on the policy you hold. A named perils policy only protects against the basic events specified in the policy, while a Special Form policy offers protection against a broader range of events. Flood and Earthquake perils are usually purchased separately, but can occasionally be added.
There are also multiple ways that you can receive compensation for damaged property; replacement cost coverage pays for the cost of rebuilding or replacing what was lost using similar materials, and actual cash value coverage pays the cost of the present-day property value, considering depreciation. The valuation option you choose for your business will ultimately depend on how you want to recover from a loss.
Businesses That Need Commercial Property Insurance
Atlas Insurance offers a variety of more specific commercial property insurance types, including builder's risk insurance, cargo insurance, equipment insurance, commercial flood insurance, and business interruption/business income insurance.
This type of insurance is especially useful for businesses who own significant property and physical assets. If your business has any type of property that you would like to have protected, commercial property insurance is a worthwhile consideration.
Cost Factors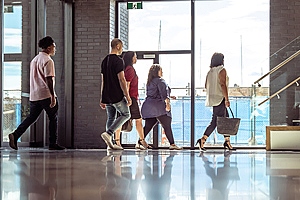 The costs for protection will depend on the location, construction, occupancy, and protection. Location near the ocean or other bodies of water increase the likelihood of a flood loss. Likewise, locations near brush may increase the fire hazard.
The heartier the construction of the building, the less likely it will be damaged. Wood frame buildings can burn and are much more susceptible to wind than fire resistive concrete structures. Occupancies with high flammable materials significantly increase the fire risk, while sprinklered buildings reduce the fire severity risk.
Trust A Reputable Insurer From Atlas Insurance Agency
If your business owns a building or other valuable assets, commercial property insurance can be a valuable layer of protection against unexpected loss or damages. Costs to repair or replace valuable assets are often high and can cause undue hardship on your business.
Atlas Insurance Agency understands that an insurance policy can make costs much lower when it is customized to suit the specific needs of your business. Reach out to us by calling us at (800) 400-6680 or by requesting a quote online to learn more about how we can help you.