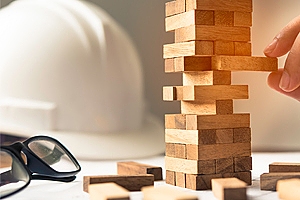 Through our Risk Control & Claims Management Consulting, Atlas can reduce your company's risk and improve work quality and productivity.
Atlas' Risk Control & Claims Management Consulting team provides individual services geared toward reducing exposure to risk. This may be the most important consideration you make to keep your company healthy and thriving.
Our Risk Control & Claims Management Consulting team has the technical skills and knowledge to develop an effective Risk Management Program for a diverse range of clients.
First, we listen hard to your issues and concerns and identify cost drivers. Then we tailor a plan to reduce your hazard to risk, improve quality of work and, ultimately, reduce premiums.
Our team is made up of the following concentrations:
---
Risk Control Consulting
The most important consideration in your company's operation should be providing the highest standards in safety.
View risk control consulting
MyATLAS Connection
Effectively managing evolving risks and controlling insurance costs in a tumultuous business environment can be challenging.
Learn more about MyATLAS Connection
---
The Atlas Service Plan
Atlas Risk Control & Claims Consulting offers an array of value-added services. We work closely with your executive management team to develop a comprehensive service plan based on our safety and claims best practices.
Your individual Atlas Service Plan may encompass the following:
Graphical Loss Analysis to identify accident loss trends, including benchmarks that help measure risk control and claims management performance for improvement
Evaluations of current exposures and controls and claim reserve practices
Safety and Claims Management Training
Safety Inspections
Safety and Claims Review Meetings, etc.
Insurance Carrier and Third-Party Administrator Services
The plan is then reviewed on a regular basis and adjusted for optimum effectiveness