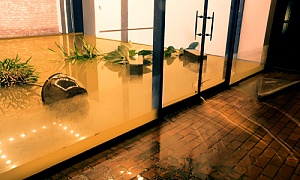 Your business is vulnerable in a variety of ways, from theft to difficulties in finding enough workers to do the necessary jobs. However, one potential problem that many business owners often forget about is the potential for flooding. If your business floods, you could be on the hook not only for repairs to your building, but for damaged products and slowed or even stalled sales.
In order to understand whether you need flood insurance, you should first learn more about what it does—and how most people who think they already have it, actually don't.
What Constitutes A "Flood"?
The National Flood Insurance Program defines a flood as "a general and temporary condition of partial or complete inundation of two or more acres of normally dry land area or of two or more properties (at least one of which is your property)." From broken dams to storm surges, your property could be vulnerable to a flood even if you are not in an area prone to severe weather such as hurricanes.
Can I Get Flood Insurance With My Property Insurance?
Contrary to popular belief, your property insurance likely does not include any protections for flooding. Many business owners are taken by surprise when their property floods and their property insurance—which they relied upon to help cover repairs—does not consider any type of flooding to be within the parameters of the policy. If you need flood insurance, you will almost assuredly have to purchase a separate policy. The good news is the National Flood Insurance Program makes it widely available. Plus, Atlas Insurance Agency has access to a great number of private insurers that can also be competitive.
What Do Our Flood Insurance Policies Cover?
Flood insurance most commonly covers direct damage to your building as a result of flood waters. Whether it is your electrical system that is damaged or your floors and walls need repairs, this typically falls under the purview of a flood policy. Commercial flood insurance also typically includes at least some coverage for the contents of your building; how much is right for you will depend upon the type of business you run and the products you store. In some cases, the Flood insurance can also be tailored to cover the resulting business income loss while your business is closed due to repairs.
When To Buy Commercial Flood Insurance
The best time to buy commercial flood insurance is as soon as possible. The National Flood Insurance program has a waiting period of at least 30 days, which means that it will be too late to purchase a flood policy if you notice that a potentially severe storm may be heading your way. Consider bundling flood insurance with your property insurance with the same provider to make the process more convenient.
Get Your Insurance From The Professionals At Atlas
When it comes to securing the right insurance for your business, commercial flood insurance is an important risk that is often overlooked. At Atlas Insurance, we stand behind the robust products that we offer and are happy to help you select that policy that will safeguard your business best. Call us at (800) 400-6680 or request a quote online to learn more.