Operating a retail business can carry a wide range of risks. From fires and theft to floods and injuries, a single unexpected event could force a retailer to close its doors for good. Fortunately, today's business owners have access to comprehensive insurance for retail business and liability protection options designed to protect them against all threats.
Knowing when to purchase a particular retail insurance policy is key to staying protected. Learn more about retail insurance coverage and in what scenarios a business owner should obtain retail insurance.
What Options Are There For Insurance For Retail Business?
Many retail businesses can benefit from having insurance coverage, such as clothing stores, grocery stores, flower shops, jewelry stores, and e-commerce businesses.
Retail insurance coverage helps protect retailers from potential lawsuits and losses they could incur while running their businesses. Business owners should consider obtaining retail insurance policies that cover both everyday risks as well as risks that are unique to the industry and specific operations.
Some of the top insurance coverage options for retailers include:
Business Interruption
Commercial General Liability
Commercial Auto
Commercial Property
Flood
Directors & Officers Liability
Employment-Related Practices Liability
Professional Liability
Temporary Disability Income
Workers' Compensation & Employers Liability
Commercial Crime
Liquor Liability
When Should I Get Retail Insurance?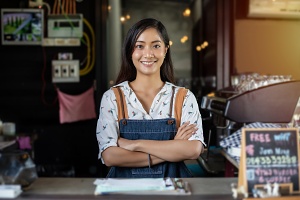 Only some retail businesses need to purchase every type of business policy. Instead, business owners must consider their unique risks and how best to protect against these threats. There are specific scenarios that retailers may encounter that require them to purchase retail insurance coverage.
Here are some times when a retail business should consider getting retail insurance coverage:
1. When It Is Required by Law
Each state has laws regulating what types of retail insurance businesses need. Depending on the state in which the company operates, a retailer may be required to purchase workers' compensation insurance if they have employees, liquor liability insurance if they sell alcohol, professional liability insurance if they provide specific services, and commercial auto insurance if they have business-owned vehicles.
2. When It Protects Employees
Workers' compensation insurance is one of the most common retail insurance policies required by most states. Workers' compensation coverage includes missed wages, medical care, and funeral benefits if an employee suffers a work-related illness or injury.
3. When It Protects Customers
Retailers can protect their customers with a Business Owner's Policy (BOP) which combines business liability and business property coverage into a single, convenient policy. A BOP can protect retailers from claims of bodily injury, property damage, product liability, and personal and advertising injury.
4. When It Protects Management
Business owners should also take the necessary precautions to protect management against common risks. Directors and officers (D&O) liability and similar policies can cover key personnel from costly lawsuits. D&O insurance reimburses defense costs incurred by managers, board members, and employees when defending against claims made by third parties or shareholders for alleged wrongdoing.
5. When Contracts Require It
There may be instances when a contract requires a retail business to obtain individual insurance. For example, a business owner may be required to have retail insurance when renting a building from a landlord or when borrowing money to finance goods. Certain types of retail insurance may also be necessary for client agreements or loan agreements.
6. When It Builds Credibility
While the primary purpose of retail insurance policies is to protect a business against risks, having coverage can offer much more than that. The right policies can also show contractors and customers that the company is credible and takes risk management seriously. Retail insurance coverage also helps communicate to everyone that the business is prepared to offer protection no matter the circumstance.
7. When It Protects Against Unexpected Events
Unexpected events can occur at any time. A retail business can suffer fire, lighting, or flood damage. Tornados, hurricanes, and other natural disasters also put businesses at risk for property damage and personal injuries. Investing in insurance for retail business can help protect business owners against these unexpected events.
8. When It Provides Peace of Mind
Growing businesses often worry about risks that could cause them financial or reputational ruin. While no one ever expects something terrible to happen to their business, every company carries a certain amount of risk. Retail insurance coverage can provide retailers with peace of mind that their business is protected.
Get an Insurance Quote from Atlas Insurance Agency
Business owners work hard to build up their retail businesses. However, there is always a risk that a natural disaster, theft, or another unexpected event could cause it all to come crashing down. Fortunately, Atlas Insurance offers customizable coverages designed to help protect retail businesses against risks.
To learn more about retail insurance coverage or to request an insurance quote, contact Atlas Insurance Agency at (808) 400-6680.