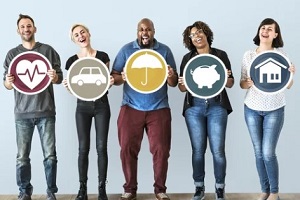 Personal line insurance refers to coverage options designed to protect individuals or families against financial losses. In the insurance industry, the term "line" refers to a class of insurance. The main objective of personal lines is to protect the financial interests of individuals or families rather than business entities or corporations.
Learn more about private line insurance, available types, and how they work to ensure that you have the proper coverage desired.
How Does Personal Line Insurance Work?
Personal line insurance protects policyholders against losses resulting from injury, property loss, or death. These insurance lines help protect people and their families against losses they would otherwise not be able to afford on their own. For example, personal lines make it possible for people to own a home or drive a car without risking financial ruin if there is an accident or other significant loss.
Personal line insurance is not just one type of policy but rather any kind of insurance purchased by a person to protect themselves or their families. These policies protect against many personal risks resulting in significant financial losses, such as fire, accidents, theft, illness, lawsuits, natural disasters, or death.
While personal line insurance can provide comprehensive protection, it does not cover every risk a person could face. However, it can reduce a policyholder's liability for damages and the amount they may be required to pay out-of-pocket following an unforeseen event. The cost of personal line insurance is based on how much coverage a person needs and how much they are willing to pay in premiums.
What Types of Personal Line Insurance Are There?
Many types of personal lines of insurance cater to individuals and families and their unique situations. Some of the most common include:
Homeowners Insurance – Homeowners insurance is a type of property insurance that covers damage to a policyholder's home, personal belongings, property, and other assets in the house.
Renters Insurance – Renters insurance protects a policyholder's personal property in a rented home, apartment, or condo from unexpected circumstances, such as a fire, theft, or sewer backup.
Automobile Insurance – Auto insurance refers to a contract made between a policyholder and an insurance company that protects against financial loss in the event of a theft or accident.
Personal Umbrella Insurance – Umbrella insurance is a type of extra insurance that provides policyholders additional protection beyond their existing limits and coverages. A personal umbrella insurance policy can be helpful if a client is found liable and the damages exceed their coverage or if a client is found liable for medical costs for another individual that exceeds their basic liability coverage limits. It can also provide liability protection for auto bodily injury, landlord insurance, and property damage liability.
Private Client Group Insurance – Clients with a high net worth may be well suited for private client group (PCG) insurance coverage. In addition to providing high coverage limits, PCG insurance helps high net-worth clients maintain their unique lifestyle by protecting their high-value assets via increased coverage limits, custom policy lines, and concierge-level handling of insurance claims.
Watercraft Insurance – Many people enjoy owning personal watercraft, but accidents can happen at any time, putting owners at risk for high repair or replacement costs. Watercraft insurance provides watercraft owners with a dedicated insurance plan that covers bodily injury to others, bodily injury to the policyholder caused by an uninsured watercraft operator, liability due to an accident, and property damage.
What Determines an Insurance Premium?
Cost is often a significant component when deciding what insurance policies to purchase and how much coverage to buy. Insurance companies look at several things when calculating insurance premiums, such as the person's age. A person's age will help predict the likelihood that the person will need to use the insurance.
The type of coverage also plays a crucial role in premium costs. The more comprehensive a policy is, the more costly it will be. For example, an automobile insurance policy that only covers liability will be cheaper than a plan that covers both liability and collision.
Insurance companies also review personal information when calculating premiums. This includes claims history, credit history, driving record, marital status, gender, lifestyle, health, family medical history, job, smoking status, and where the person lives.
Finally, the amount of coverage will make an impact on premium costs. The less coverage a person needs, the less they will pay for their insurance.
Get an Insurance Quote from Atlas Insurance
Fires, thefts, natural disasters, and other perils can occur anytime and without much or any warning. To protect against these unexpected events, it is essential to have personal line insurance in place.
To learn more about the types of private line insurance available or to request an insurance quote for a personal line insurance policy, contact Atlas Insurance Agency today at (808) 400-6634.